As we covered in our previous post discussing more fully the positive impact of piano lessons for both children and adults alike, the benefits of music education are plentiful.
Of the developmental advantages, a 2014 study indicated the attitudes of parents regarding their child's progress with learning an instrument: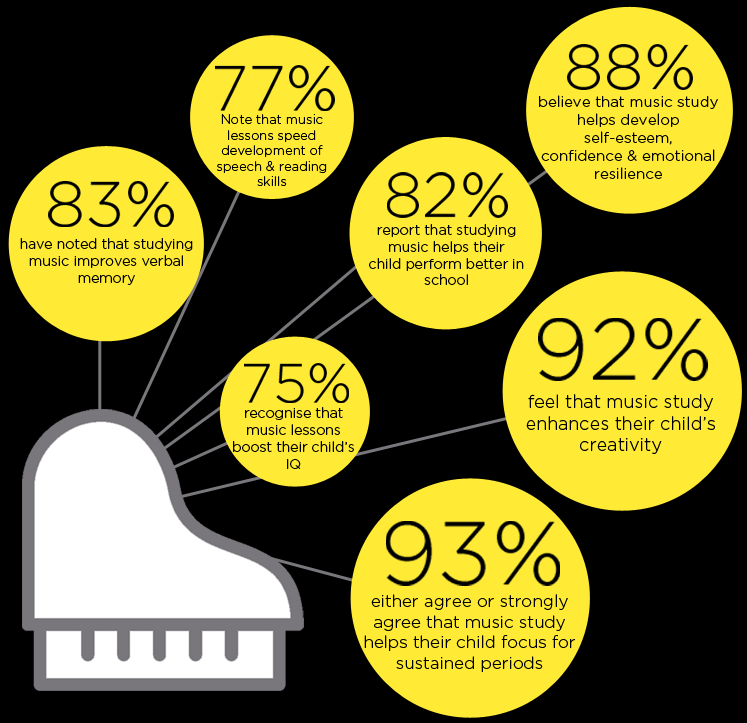 You can learn more about the benefits of taking piano lessons in London here, but today we'll be taking a look at how to maximise those benefits by implementing structure to your child's piano lessons.
What is 'Structure'?
The gift of music is one of the greatest and long-lasting influences you can give to your children, even if it's simply filling the house with song and providing the opportunity to bang on pots and pans. Indeed, a recent Australian study found that very informal music-making in the home during play sessions had an appreciable impact on a toddler's literacy, numeracy and social skills, and the effect was far greater than other types of art-related play.
But as you can imagine, this impact is more pronounced when structured musical education is introduced. So what do we mean by 'structure'?
Simply put, it's establishing a formal process to the journey in order to make the piano lessons fulfilling over the long term: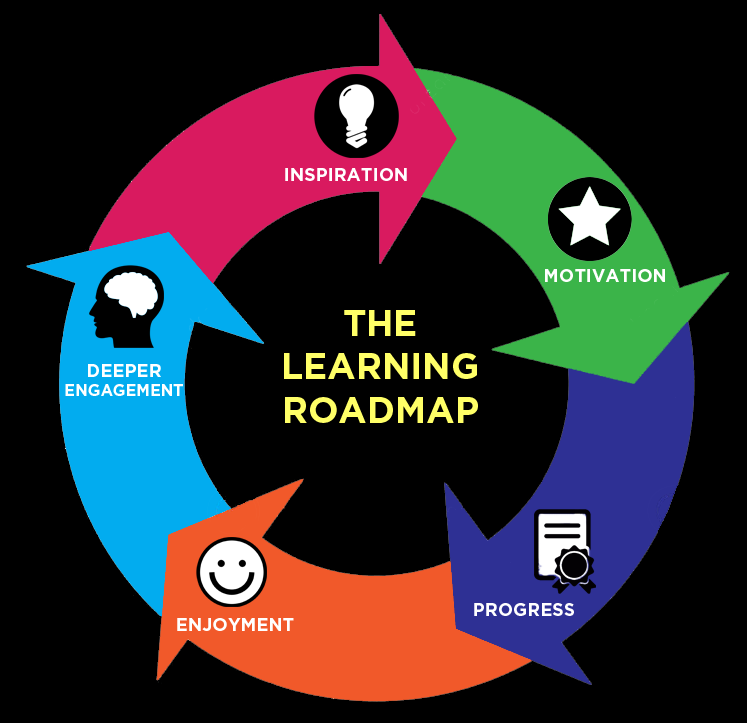 Of course, the idea of a 'formal process' shouldn't impact on a child's enjoyment of taking up piano lessons in London, and really, he or she doesn't need to be aware that there is a fixed structure in place – each and every step should feel rewarding and fulfilling.
For that, the right piano teacher for your child is crucial.
What to Look For in a Teacher
It goes without saying that a piano teacher who understands the importance of structure – and the steps therein – is paramount. They should be able to work with the parent to craft a bespoke program of learning, evaluation and recognition, ultimately instilling a sense of accomplishment in their student as they progress.
Moreover, the teacher should be able to identify areas for improvement and provide valuable feedback to parents along the way.
Other signs of a great music teacher include: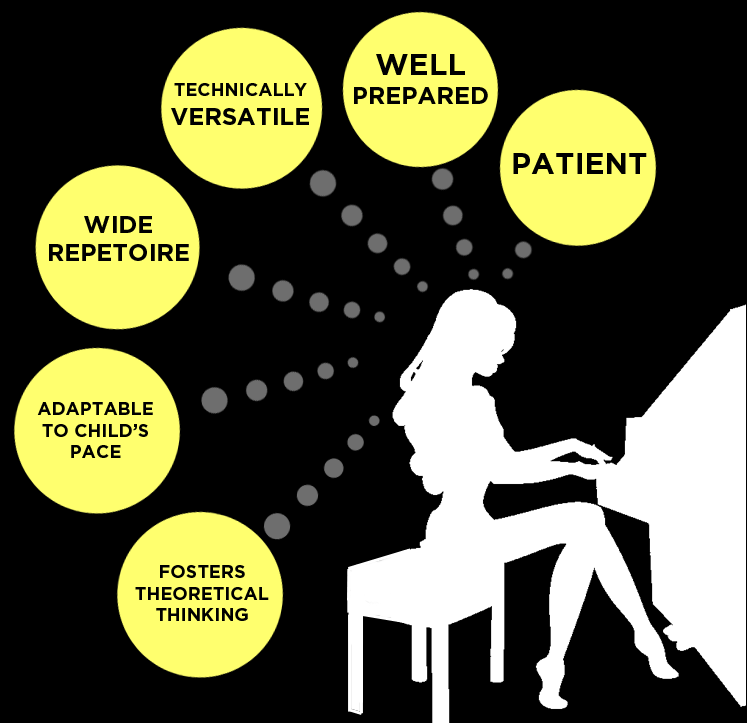 While this sounds like a lot to take in, now that this is in the back of your mind you'll discover that you'll mostly be able to identify the perfect piano teacher in London from gut feel. Never feel that you can't talk to prospective teachers without commitment and for as long as you like to discuss goals and expectations – as well as their personal teaching philosophies; after all, a good teacher will always be happy to make sure everyone is on the same page and happy before they themselves commit to teaching your child.
Moving on, let's take a quick look at the major components that should form the center of your child's piano lessons in London before moving on to some frequently asked questions:
The Four Pillars of Musical Study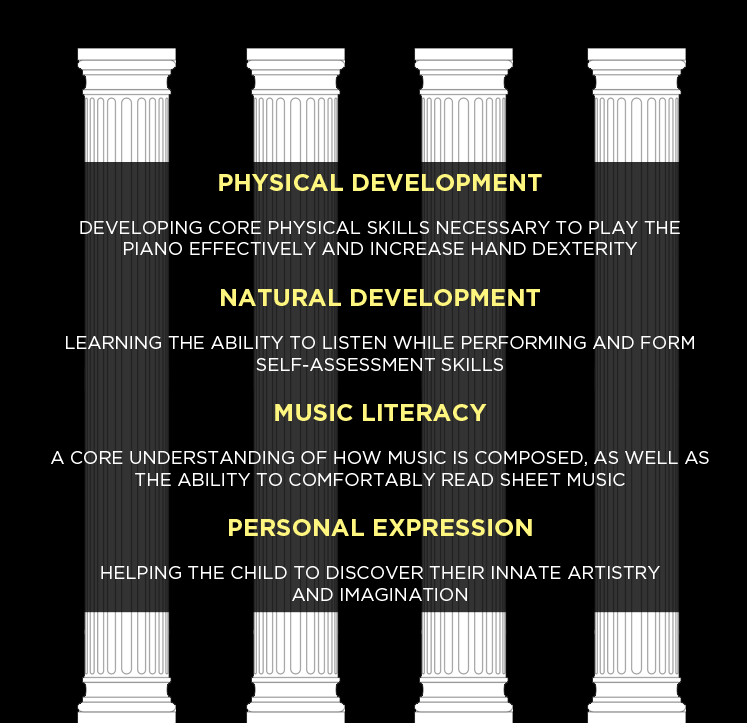 As we can see, it's a lot for the teacher to focus on in the long term which reinforces the need for a structured approach to music study.
Learn Piano in London – Frequently Asked Questions
When should my child begin music lessons?
This is a tricky one as there's no definitive age to begin, though as we discussed previously the benefits are more pronounced when learning piano at a younger age.
Every child is unique, and a good teacher will recognize this and be able to accommodate for age and ability. The only surefire way to answer this question is to chat to the prospective teacher and, if she's also willing, try out a few lessons. More often than not, you'll be pleasantly surprised and wish you'd embarked on your shared journey sooner.
My child struggles with attention span and staying focused; will this be a problem?
Not at all. In fact, an improved focus outside of the class is one of the most noticeable pros of regular piano lessons. And don't worry about whether or not the teacher can 'handle' it – we can guarantee she's worked with far worse!

How often should my child practice the piano?
Once again this is a difficult one to answer in a general sense, but it goes without saying that your child shouldn't come to see it as a chore (and nor should it impede on regular school or play time.)
Thirty minutes per day for four or five days a week is a good target, but this does vary depending on age and what ability level your child is at. This all said, your child's teacher will be able to help you work out an optimal practice schedule.

Do children learn piano faster than adults?
Typically yes, though this is primarily due to the fact that children (counter intuitively) tend to enjoy learning new things far more than adults, coupled with the fact that they don't have the kinds of life distractions that we have getting in the way.
My child is already learning an instrument – will taking piano lessons in London effect that?
Not in the slightest. Music is very much a universal language, so outside of making sure you and your son or daughter can devote time to both, it'll actually bolster their progress in music.
We're ready to go! What's next?
Great! Let's get your child started learning piano in London – get in touch with us today, and we'll guide you through the process to getting on the road to a lifelong adventure in music.